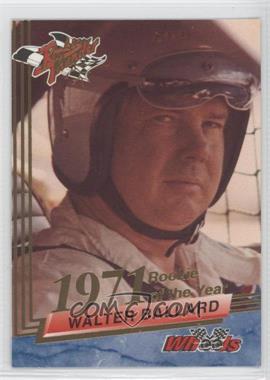 (Photo; comc.com)
Born in Foley, Alabama, USA.
Walter is a former NASCAR Winston Cup driver and son of former stock car owner, Vic Ballard. His family moved to Houston, Texas when he was seventeen years old and it was here that he first saw A. J. Foyt driving at Playland Park and Walter became fascinated with the sport.
After two years in the army Walter returned to Houston and he began racing. At first he tried drag racing before going on to stock cars. He made a single Grand National start in 1966 and did not return to the series until 1971, when he ran a nearly full season in a car owned by his father. He captured 11 top tens on his way to Rookie of the Year honors, and a tenth-place finish in points. The next season was even better, capturing 7 top tens to a 6th-place finish in points. He continued full-time with the team until 1975. He then participated part-time in the 1976 and 1977 seasons and then retired from NASCAR. His best Cup finish was a 3rd at Meyer Speedway in Houston Speedway in 1971.
In 1979 Ballard started an automotive repair business with his sons Daniel, Stanley and Clint. In November 2005 he retired and currently resides in Charlotte, North Carolina with his wife Katie.